New Visiting Guidelines-June 9 2021
Visiting Information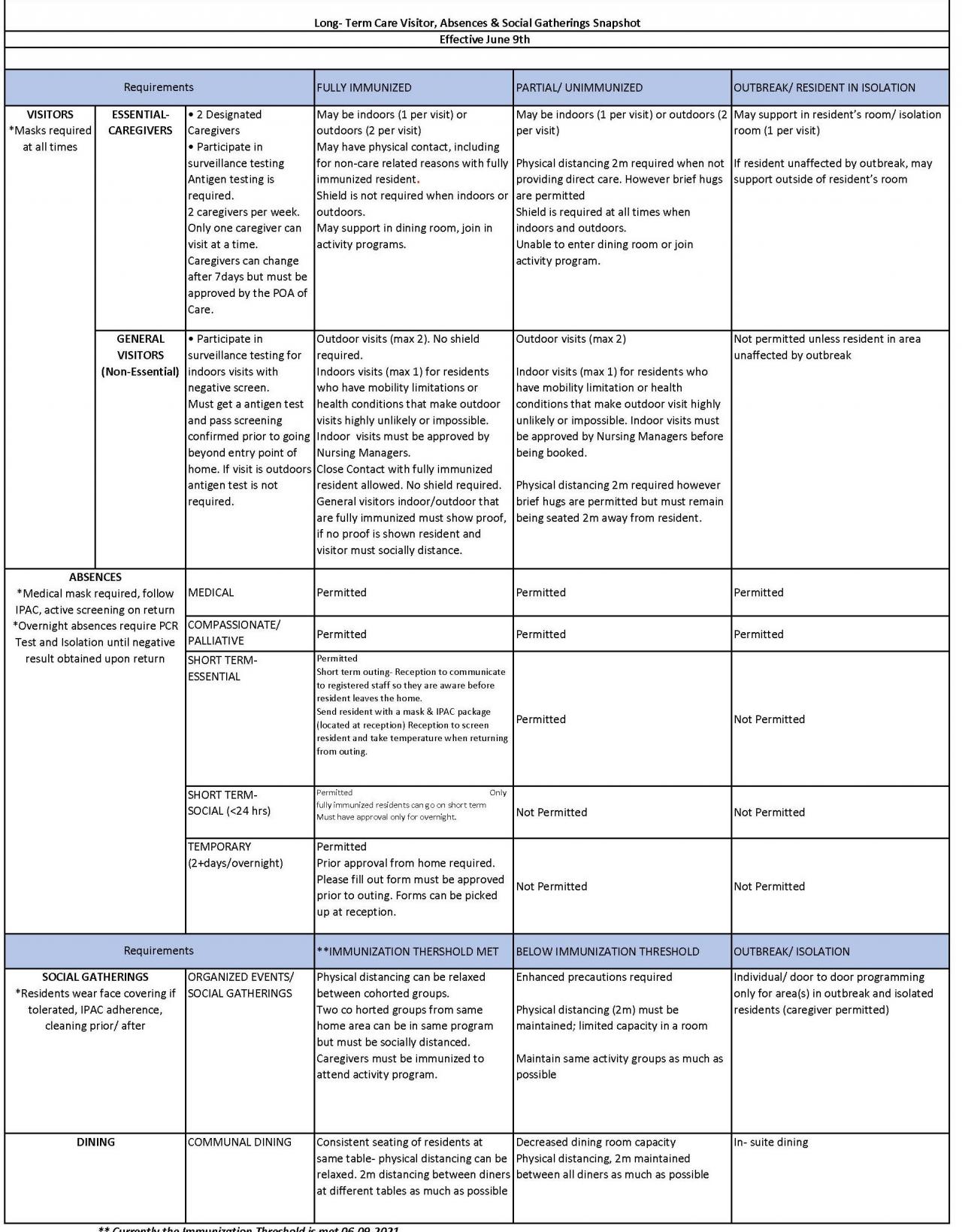 General Visits- Newly Updated!
General Visits are able to be booked on the days listed below.  Once a week visits can be booked according to home area.
Brant Terrace - Monday
Costain Court-Tuesday
Cockshutt Place-Wednesday
Davis Court-Thursday
Mohawk Terrace-Friday
Grand Terrace-Saturday 
These visits will be in the Davis Courtyard. 

Visitors must sign in and pass screening before going to the courtyard. 
Visitors can bring their own mask or be supplied with one by the Home.
Visits must be booked by POA of Care.
Two visitors can attend per visit.
Scheduled Caregivers are welcome to accompany their loved one during the outdoor visit.
Please call Ext. 4241 if you have any questions or would like to book an outdoor visit.
Virtual Visiting
Virtual Visits are offered using Skype or Facetime.  If interested, please contact your loved ones home area and a Recreation Programmer can schedule your visit.     
Essential Caregivers
The Ministry of Long Term care has made changes to the Essential Caregiver directive.
Each resident may assign two individuals to be considered Caregivers. Following certain criteria and restrictions, Caregivers may visit residents within the home. Please note that the caregiver designation must be decided upon by the resident and /or the POA of Care/Substitute Decision Maker.
Those who wish to be designated as a Caregiver must contact Ext 4241 to be provided with an agreement package, education and guidelines that must be followed during their visit.
March 25, 2021 - New changes regarding Caregiver testing during an outbreak
Please note that when the Home is in an outbreak, you are no longer required to get a PCR COVID swab and present proof of a negative test result. 
COVID SWABBING MEASURES FOR CAREGIVERS
EFFECTIVE MONDAY MARCH 22, 2021
 
Through the requirement from the Ministry of Long- Term Care, the home is implementing a new COVID screening swabbing process. The new process uses an Antigen low nasal screening kit, rather than a lab process to detect COVID virus. This means that your COVID result will be available within 15 minutes of having the swab. This is great news to our caregivers as you will be able to get your test within the home rather than going elsewhere.
 
The process helps to ensure that we keep residents, staff and caregivers safe and guards against virus entering the building.
 
Each time when you enter the home, you will be asked to sign in the binder at reception and then proceed to the screening machine, reception will be sure to pass along PPE if required for your visit. Caregivers must check into the Antigen Clinic to see if a test is required. All Caregivers are required to have an Antigen test every other day. Caregiver will await results before going to the home area. The clinic is located in the skylight café (behind reception).
 
Please note, IF THE HOME IS IN AN OUTBREAK the Antigen Clinic will remain open for you to receive an Antigen test. The procedure will remain the same. Antigen testing will be required every other day when visiting.  
 
Due to staff high volume times, we encourage caregivers not to visit from 2:00-3:00pm each day so that staff can be swabbed coming in for the start of their shift.

Just a reminder that visiting hours are from 8:00 until 7:45pm. Reception closes at 8:00pm, please come down earlier so reception is available to assist you if needed when signing out. 
APRIL 22, 2021 -UPDATED: ANTIGEN CLINIC HOURS FOR CAREGIVERS

PLEASE COME BETWEEN THESE TIME FRAMES.
8:00am – 8:45am
9:30am – 10:00am
10:30am – 12:45pm
1:30pm – 1:45pm
3:00pm – 4:45pm
5:30pm – 7:15pm 
Please note the last test will be done at 7:15pm. Visiting hours are until 7:45pm. 
Short Stay Absences
Short Stay Absences are only permitted when the region is in Green or Yellow level.   All resident short stay absences for non-medical purposes, are approved by the Home. Families are required to request any resident short stay absence by filling out a Request for Short Stay Absence form. The forms will be located at reception. Requests will be reviewed on a case by case risk assessment considering: - Local disease transmission and activity. - The risk associated with the planned activities that will be undertaken by the resident while out of the home. - The resident's ability to comply with local and provincial policies/ bylaws. - Any further direction provided by the Ministry of Long-Term Care (MLTC). Note: Please allow 3 days for the request to be processed 
Please note: your loved one will be screened out and in upon arrival by reception, a surgical mask and best practices information sheet will be sent with you to review when your loved one is signing out. 
Temporary Absences
Temporary Absences are for personal reasons and for one or more nights. The Home must review and approve all temporary absences based on a case by case risk assessment. The risk will be reviewed related to: the Homes ability to support self isolation for 14days; local disease transmission and activity; the risk associated with the planned activities that will take place while the resident is out the Home; the residents ability to comply with local and provincial policies/bylaws and any further direction provided by the ministry of long term care.
Please note: any resident that is on a temporary absence will be in isolation for 14 days upon return and will require a negative COVID-19 test to have the isolation lifted.  These absences require 72 hours notice (excluding Saturday and Sunday) The absence must be arranged with an appointed POA for Care for the resident.   
Ministry of Long Term Care
Ministers Directive _COVID-19 Long-Term Care Home Surveillance Testing 
Advocating for Long Term Care
LTC Chronicles Podcast presented by the Family Councils Collaborative Alliance (FCCA), March 2021, featuring Dr. Janice Legere, Medical Director of John Noble Home
Click to edit
Podcast is also available on Sound Cloud  https://soundcloud.com/user-384632250 
Medical Director, Dr. Janice Legere has had two published opinion pieces in the Hamilton Spectator.